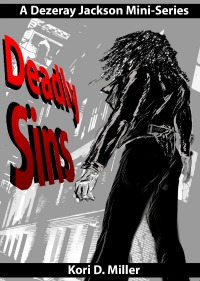 Deadly Sins: A Dezeray Jackson Mini-Series has been available for a month, and I'm already hard at work on Deadly Sins II.  This one promises to give you even more of the excitement, irony, and Dez's sarcastic wit, plus introduce you to a few more characters. (And, maybe a new move or two.)
Murphy, a high-school flame that got snuffed too soon, is a hard-hitting ex-military guy looking for the person who killed his brother.
Talia's a former spoiled rich kid who still suffers from bouts of affluenza.  When someone steals her newly acquired painting, she asks her friend Dez, for help.
Katrina helps out Dez and expects something in return.
You get to know Clive Dixon a bit better, and Eddy returns with his unique take on things in the Big O.
And, someone is after Dez.
All this, and I've only finished the first two stories!
As before, you decide the sin.
Why flash fiction? 'Cause it's fast, and fun!
The print edition of Deadly Sins I includes two sneak peeks. You get to read a little of Deadly Sins II, and one chapter of Hush: A Dezeray Jackson Novel. (This last one is scheduled for publication in 2015.) I'll keep you posted on the release date for the print edition of Deadly Sins I.
Thanks for reading! And, thank you for sharing my work with other people.
KDM
Be sure to check out the discount over on Smashwords. The promotion ends March 16th!