Ya know how some writers toil for years over their writing? I'm generally not one of them. And I can't relate to their experience. My motivation for writing comes from a few places, and I don't require a lot of time pondering just the right word or the length of a sentence. This is probably why I'll never write "a great American novel."
I write to entertain myself first, and you second. Honestly, if I can't get a giggle or any other emotion from myself while writing something, you certainly won't when you're reading it.
When you read the Deadly Sins Mini-Series, you'll laugh, get annoyed, be disgusted, be angry, and you even might experience a little fear. The short stories are your introduction to Dezeray Jackson, my protag. She's a smart, sassy PI. Don't take my word for it! Go check out the reviews for HUSH: A Dezeray Jackson Novel on Amazon. 
There are nine short stories in the Deadly Sins Mini-Series, and there are more coming! Today, I finished editing two more and my editor has a third one.  Each story gives you insight into Dez's life before HUSH. You meet some of the people who've helped shape who she is, pissed her off, wanted her dead, or became an ally. They're not written in chronological order. They're simply snippets in time. Sometimes you'll be with her in Florida, New York, or Nebraska. Go with the flow. The stories aren't connected.
The first book in the Deadly Sins Mini-Series is FREE on Amazon, Kobo, and just about everywhere else. Be sure to pick up your copy!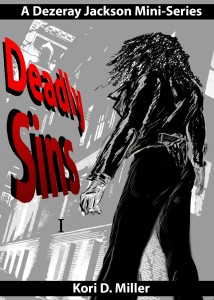 After you read the book, please consider leaving a review wherever you snagged your copy.
NaNoWriMo begins Nov. 1, 2015 and I'm writing NORTH DOWNING: A Dezeray Jackson Novel, Book 2. If you're taking on a NaNo project this year, look me up and we can be writing buddies!
Thanks!
KDM