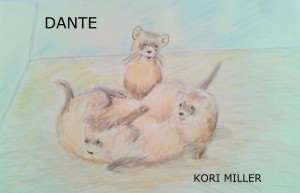 Today, I checked out Kindle Kids' Creator after receiving an email. This changed my entire schedule for the day! Rather than continue work on the Tea Trove website re-build, I turned my attention to Dante. It's the first children's story I ever wrote, and tried to traditionally publish. During the past two years, I started receiving positive rejections; I knew I was on the right track, and that it was just a matter of time before I found the right agent. Time. Well, today, I changed my mind.
I uploaded the manuscript. The book is awaiting approval for pre-order status. That's right! You can pre-order Dante, and it'll be delivered December 3, 2014, just in time for the holidays.
The story takes place in a pet store. Dante is trapped. He's trapped behind glass walls and a ceiling door that's too heavy to push up. He watches as friend, after friend, is taken away by The Gatekeepers, never to be seen again. Then, one day, Dante plans his escape." Age range: 6-8 Grade; level: K- 2. 
It's a wonderful story about Dante's willingness to take a chance and find his forever family.